by Pam Martens and Russ Martens
Wall Street on Parade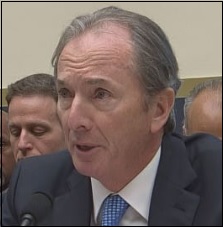 James Gorman is the Chairman and CEO of Morgan Stanley. He also sits on the Board of Directors of the Federal Reserve Bank of New York (New York Fed), one of Morgan Stanley's regulators.
The New York Fed is one of 12 regional Federal Reserve banks – but the only one willing to turn on a multi-trillion dollar money funnel to Wall Street's mega banks when they need a secret bailout. Since September 17 of this year, the New York Fed has pumped upwards of $3 trillion in revolving loans to trading houses on Wall Street, without naming which firms are getting the money and why they're getting it. From December 2007 to the middle of 2010, the New York Fed turned on its money funnel to Wall Street to the tune of $29 trillion – a fact it battled in court for years to keep secret.