by John W. Whitehead
The Rutherford Institute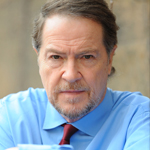 "If, as it seems, we are in the process of becoming a totalitarian society in which the state apparatus is all-powerful, the ethics most important for the survival of the true, free, human individual would be: cheat, lie, evade, fake it, be elsewhere, forge documents, build improved electronic gadgets in your garage that'll outwit the gadgets used by the authorities." – Philip K. Dick
It's a given that Big Brother is always watching us.
Unfortunately, thanks to the government's ongoing efforts to build massive databases using emerging surveillance, DNA and biometrics technologies, Big Brother (and his corporate partners in crime) is getting even creepier and more invasive, intrusive and stalker-like.
Indeed, every dystopian sci-fi film (and horror film, for that matter) we've ever seen is suddenly converging into this present moment in a dangerous trifecta between science and technology, Big Business, and a government that wants to be all-seeing, all-knowing and all-powerful—but not without help from the citizenry.