Former Fed chief says no one saw how damaging crisis would be
by Rich Miller
Bloomberg.com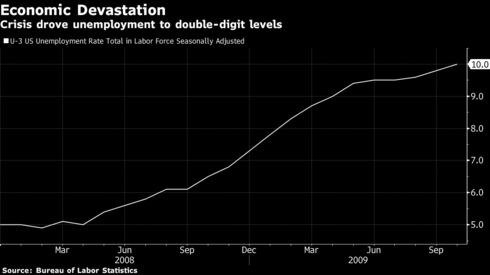 Former Federal Reserve Chairman Ben Bernanke acknowledged that policy makers made two critical errors fighting the financial crisis a decade ago: They failed to see it coming with such force then underestimated how much economic damage it would cause later.
"Nobody saw how widespread and devastating the crisis itself would be," he said in a short video discussing the results of a 90-page paper on the subject released on Thursday.
Bernanke, the Fed chief from 2006 until 2014, is now a distinguished fellow at the Brookings Institution in Washington. He singled out the panic that engulfed the financial system with the 2008 collapse of Lehman Brothers Holdings Inc. as the key reason for the depth of the recession back then.