Greg Hunter's Weekly News Wrap-Up for August 10th, 2018
by Greg Hunter
USA Watchdog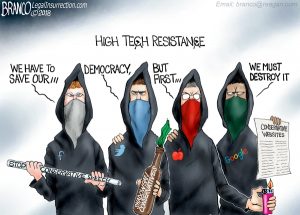 Trump lawyer Rudy Giuliani thinks the Russia probe by Special Prosecutor Robert Mueller is going to "blow up" on Mueller and his team. It has become apparent Mueller has not got a single charge that Trump colluded with the Russians to win the 2016 election. The FBI and the DOJ simply made up crimes to frame Trump to try to kick the President out of office. It's a failed coup, and the people that tried to pull it off are in deep trouble.
The internet purge is here, and sites like InfoWars.com are just the first to be blocked by social media. Now, InfoWars.com report the attacks continue, and hackers from big companies are trying to take the Alex Jones site completely off the internet. On the other hand, all the attention that InfoWars.com has gotten has driven up people trying to find the site on Google and has driven the InfoWars.com app to #1.
Journalism is dead, at least at the mainstream media (MSM) companies. Liberal organizations are calling on journalists to "hurt" President Trump, any way they can, with their reporting.