Pento: Inflation to Skyrocket When Fed Reverts to New QE & Interest Rate Cuts
by Mike Gleason (with Michael Pento)
Money Metals Exchange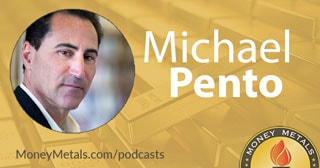 Welcome to this week's Market Wrap Podcast, I'm Mike Gleason.
Coming up Michael Pento of Pento Portfolio Strategies joins me examine what's happening beneath the surface in the markets right now, and why we should all be very leery of putting too much stock into what we're hearing from the mainstream financial media these days regarding the economy. Don't miss another sensational interview with Michael Pento, coming up after this week's market update.
Gold prices see-sawed around the $1,300 level this week as silver prices advanced to 7-week highs. As of this Friday recording, gold trades at $1,298 an ounce, up 0.2% for the week. Silver prices come in at $16.75, good for a 1.8% weekly gain.
Click Here to Listen to the Audio