by Pam Martens and Russ Martens
Wall Street on Parade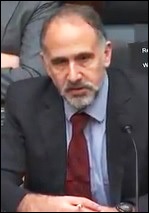 On Wednesday, the House Financial Services Committee held a hearing on a topic of critical importance to all Americans: restructuring the Federal Reserve into a modern day central bank instead of a captured regulator controlled by the very banks it purports to supervise. Dean Baker, the Senior Economist at the Center for Economic and Policy Research, presented an important assessment of reforms needed at the Fed but you will be hard pressed to find any mainstream media coverage of his testimony. Instead, President Trump's characterization yesterday of Haiti and African nations as "sh**hole countries" is dominating the news.
How much critical work is falling by the wayside because mainstream media, dependent on ratings, elects to pursue only the most sensational stories – which they have no shortage of finding under President Trump.
Congress began its latest push to reform the Federal Reserve in 2014 after a bank examiner at the New York Fed, Carmen Segarra, filed a lawsuit stating that she was fired in retaliation for refusing to change her negative examination of Goldman Sachs. The gutsy Segarra secretly made tape recordings inside the Fed to show how the lapdog regulator viewed its supervisory mandate. Portions of the tape recordings were released by ProPublica and public radio's This American Life.