by Noris Soto and Nathan Crooks
Bloomberg.com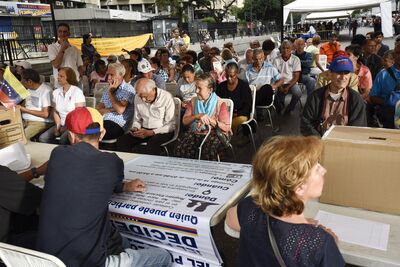 Almost 7.2 million Venezuelans lined up throughout the country and abroad for a symbolic vote of dissent against President Nicolas Maduro's plan to rewrite the constitution, a turnout that dwarfed expectations.
The tally, which was reported by opponents of the authoritarian regime who organized the plebiscite, represented a significant proportion of the nation's population of 31 million. Massing to about 2,000 polling places in the colors of the Venezuelan flag, they defied the threat of violence by government supporters that took at least one life.
"With these numbers, Maduro is rebuked," Julio Borges, president of the opposition controlled National Assembly, said late Sunday. "The people have given a clear mandate to have a free and democratic country. We don't want to be Cuba."