by Charles Hugh Smith
Of Two Minds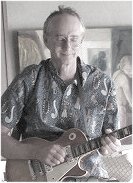 "Governments cannot reduce their debt or deficits and central banks cannot taper. Equally, they cannot perpetually borrow exponentially more. This one last bubble cannot end (but it must)."
I often refer to debt serfdom, the servitude debt enforces on borrowers. The mechanism of this servitude is interest, and today I turn to two knowledgeable correspondents for explanations of the consequences of interest.
Correspondent D.L.J. explains how debt/interest is the underlying engine of rising income/wealth disparity:
Here is a table of the growth rate of the GDP.