by Pam Martens and Russ Martens
Wall Street on Parade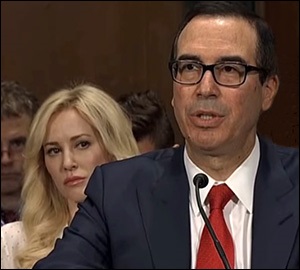 If the plan was to soften the grilling by Democratic Senators at yesterday's Senate Banking Committee hearing by bringing along his Stoic-faced fiancée Louise Linton, U.S. Treasury Secretary Steven Mnuchin was disappointed. Neither Linton nor Mnuchin should have been surprised. Mnuchin had faced an equally hostile reception from Democrats at his January 19 confirmation hearing before the Senate Finance Committee.
During yesterday's hearing Mnuchin dispelled the lie that the Trump administration has fostered for months — that it was considering restoring the Glass-Steagall Act and breaking up the big banks on Wall Street. After Mnuchin attempted to say this had never been their position, Senator Elizabeth Warren called his testimony "bizarre," "crazy," and "like something straight out of George Orwell."