by Charles Hugh Smith
Of Two Minds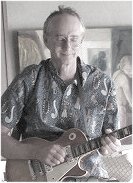 Forget decoupling from Europe–we've been decoupled from reality since 2008.
Have we decoupled from the global slowdown? Doubtful. Have we decoupled from reality? Undoubtedly–and have been since 2008. One key attribute of reality is feedback: actions have consequences, and various forces reinforce or resist each other in a dynamic interplay of positive and negative feedback.
Another key attribute of reality is risk. Risk is as ever-present as gravity, and it cannot be eliminated; it can only be shared or transferred.
When you overwhelm feedback with massive interventions that mask risk, you decouple from reality. With feedback suppressed and risk hidden, the system's resilience and resourcefulness both atrophy. Participants start making decisions not on risk assessment and feedback from reality but on the results of the intervention.