The Argentine Central Bank announced on Thursday it will officially ban the purchase of dollars for savings, the latest in a series of measures to discourage the buying of greenbacks.
from Merco Press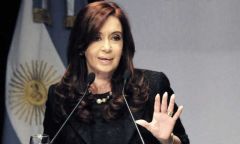 The details of the decision which will be released in a communiqué from the monetary authority is a step further in the so called "dollar clamp" which the administration of President Cristina Fernandez has been implementing since last year to compensate for the scarcity of dollars and her pledge to repay all bonds maturing this year in "US dollars".
Central bank sources however pointed out that the measure is not extensive to long term deposits or current accounts in foreign currency. The latest move banning the purchase of dollars for savings is an "indefinite suspension".