by Charles Hugh Smith
Of Two Minds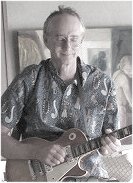 Dissent, feedback, innovation and adaptation are the only sustainable sources of stability, prosperity and well-being.
Reader Michael K. recently asked one of the key questions of the next 20 years:
I would very much like to learn your thoughts on what careers may be viable for our children. With the future likely to change our lives so dramatically, where do you see opportunities for some form of career growth and some form of stability?
Thank you for the question, Michael. All of my books can be read as attempts to answer this question: or Weblogs & New Media: Marketing in Crisis, Survival+: Structuring Prosperity for Yourself and the Nation, An Unconventional Guide to Investing in Troubled Times and Resistance, Revolution, Liberation: A Model for Positive Change.
There is no way to adequately address the many issues raised by this question in a single entry, but we can start with these general observations: