by Charles Hugh Smith
Of Two Minds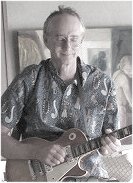 The essence of debt serfdom is debt rises to compensate for stagnant wages.
I often speak of debt serfdom; here it is, captured in a single chart. The basic dynamics are all here, if you read between the lines:
1. Financialization of the U.S. and global economies diverts income to capital and those benefitting from globalization/ "financial innovation;" income for the top 5% rises spectacularly in real terms even as wages stagnate or decline for the bottom 80%.
2. Previously middle class households (or those who perceive themselves as middle class) compensate for stagnating incomes and rising costs by borrowing money: credit cards, auto loans, student loans, etc. In effect, debt is substituted for income.